Yug-Neftegaz Private Limited is a company registered in Singapore. It provides services in the oil and gas sector in international markets and coordinates activities of a Group of companies.
The following companies are the parts of the Group:
- Yug-Neftegaz Private Limited
- YNG Exploration Limited
- YNG Energy Limited
- YNG Caspian Limited
MAIN ACTIVITIES OF THE GROUP
- Exploration and development of oil and gas fields
- Full range of services for Operators of the oil and gas industry rendering, including provision of various equipment and technical solutions:
geophysical works and surveys (seismic data field acquisition, processing, and interpretation);
oil and gas wells drilling;
oil and gas wells work-over of any complexity;
hydrocarbons production stimulation.
The technologies we offer are, first of all, the result of our comprehensive scientific & research studies of the presentday world experience in the oil and gas industry. Yug-Neftegaz Private Limited production activities are based on the results of our own scientific researches related to new efficient EOR methods and technologies developing and applying. The scientific & research studies are conducted under the leadership of the Honored master of sciences and engineering of Ukraine, Doctor of Technical Science, Professor, Academician of the International Higher Education Academy of Sciences, the Academy of Mining Sciences of Ukraine and the Ukrainian Oil & Gas Academy, the I. Gubkin award winner, Honoured Oil Worker of the USSR and Ukraine Yu. Balakirov.
Key production figures
As of 07/01/2022, under Contract № T5–8–397, as calculated on a cumulative total, 2,049 well operations were performed, and more than 3.54 million tons of incremental oil were produced.
Additional new oil produced    
(tons per year)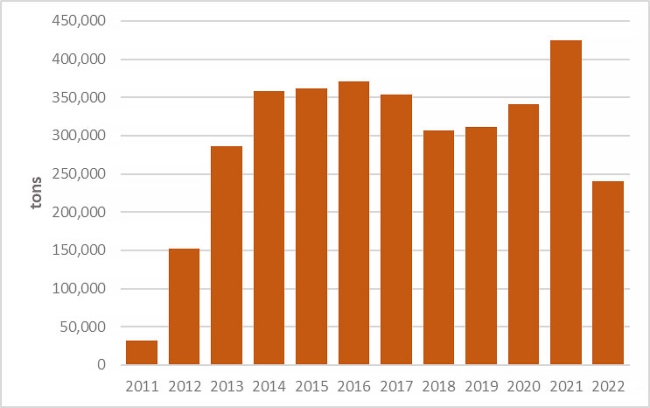 Cumulative additional new oil produced    
(tons)