Yug-Neftegaz Private Limited has got its proprietary seismic and borehole data processing and integrated interpretation center residing in 320 m² office premises.
Our center is equipped with up-to-date, high-performance hardware and Paradigm® software packages - the world's industry leader in geological prospecting survey solutions, enabling high-quality and fast data processing and interpretation.
The center staff is the team of highly qualified geophysicists and geologists with extensive experience in processing and interpretation of seismic data acquired on-shore and off-shore. The operation portfolio of the center's experts comprises above 50 successfully completed oil & gas projects in Eastern and Central Europe, Central Asia, Africa, South America and the Middle East.
Close co-operation and co-ordination between the departments of the center allow for choosing the most effective way of seismic data processing depending on geological tasks set.
Seismic data processing is performed by applying up-to-date Paradigm® software package: 
Echos - for seismic data processing 
GeoDepth - for velocity-depth modeling.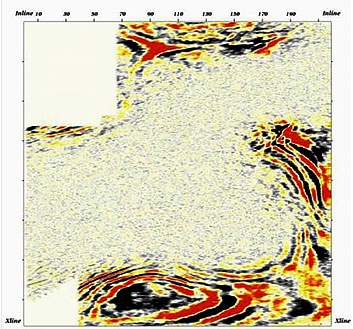 3-D time data volume  
(coherence-cube time stack)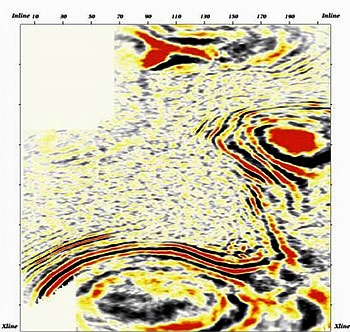 3-D time data volume  
(coherence-cube time stack)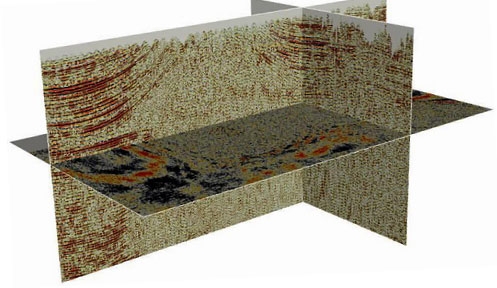 3-D time data volume 
(spatial image)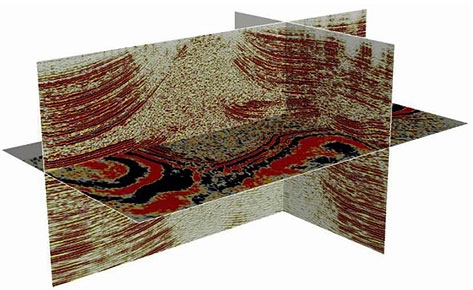 Migrated 3-D data volume 
(spatial image)
The result of seismic data processing is an acquisition of a high resolution 3-D image of geoenvironment with an optimum S/N ratio.