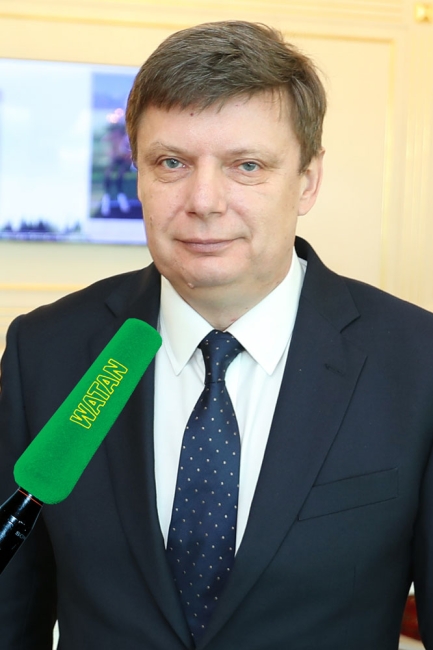 On April 24, 2022, the National Holiday of the Turkmen Horse was celebrated on a grand scale in Turkmenistan. This holiday embodies the commitment of the People of Turkmenistan to their spiritual roots and unique cultural heritage.

The main events of this celebration were held at the International Akhal-Teke Equestrian Complex. This grandiose event was attended by the President of Turkmenistan Serdar Berdimuhamedov, who during his stay at the festival also held a number of bilateral meetings with foreign businessmen who head big international companies and arrived in the country to participate in the celebrations on the occasion of the National Holiday of the Turkmen Horse. The director of Yug-Neftegaz Private Limited Igor Burkynskyy was among them.

During the bilateral meetings with the representatives of the big foreign businesses, the President of Turkmenistan Serdar Berdimuhamedov thanked them for their constant participation in festive and other events held in Turkmenistan. The head of state also stressed that strengthening partnerships with leading foreign companies is one of the most important aspects of the socio-economic development strategy implemented by Turkmenistan, aimed at introducing the best world experience and advanced technologies. 

Within the framework of the bilateral meeting of the President of the country with the director of our company Igor Burkinsky, an exchange of views took place on promising areas of mutually beneficial cooperation in the context of profile projects and programmes that are being implemented in Turkmenistan in its oil and gas industry. Igor Burkinsky confirmed the readiness of our company to provide Turkmen partners with all its advanced experience and potential, including those in seismic exploration, he also assured that the company headed by him will continue to make every effort to fulfill its obligations in a quality and timely manner, making its contribution in the economic development of Turkmenistan.

At the end of the meeting, Igor Burkinsky expressed his deep gratitude for the time devoted to the meeting and warmly congratulated the President of Turkmenistan Serdar Berdimuhamedov on the Holiday, wishing him good health, prosperity, and new successes for the benefit and well-being of the Turkmen people.