The Araifa Exploration Permit Area is situated in the south of Tunisia on the territory of the hydrocarbon field in Ghadames province. This Permit Area location is to the North of the El Borma field (the largest one in Tunisia, discovered in 1965) and to the West of the Jebel Grouse field (discovered in 1981). In addition, the oil and gas pipelines running from the El Borma field cross through the South East part of the Araifa Permit Area.
The Operator of the Araifa Permit project is YNG Exploration Limited, which operates under the Convention with the Republic of Tunisia, whose interests are represented by the ETAP ('Entreprise Tunisienne d'Activités Pétrolièresthe' which is theTunisian petroleum state-owned Company).
The Exploration License for the Arifa Permit Area entered into force since its publication in the "Official Bulletin of the Republic of Tunisia" No103 on December 27, 2013.
The Arifa project provides for:
Geological & 

Geophysical 

studies

;

Satellite image acquisition, processing, and interpretation;

Acquisition, processing, and interpretation of 655 km2 of 3D seismic data;

Two (2) exploration wells drilling.
Field seismic data acquisition activities commenced on April 04, 2016. The project's scope of works envisaged 655 km2 of 3D seismic, where 498 km2 of which were the full 3D seismic. The works were completed on August 03, 2017. The contractor for these services was GeoSeis Service.
The implementation of the acquired 3D seismic data processing and interpretation project commenced on October 12, 2017. The data processing is planned to be completed within the following 9 months. The upcoming works will include:
- 3D seismic data processing completion;
- 3D seismic data interpretation;
- preliminary works for the first exploration well drilling.
ARAIFA Permit Overview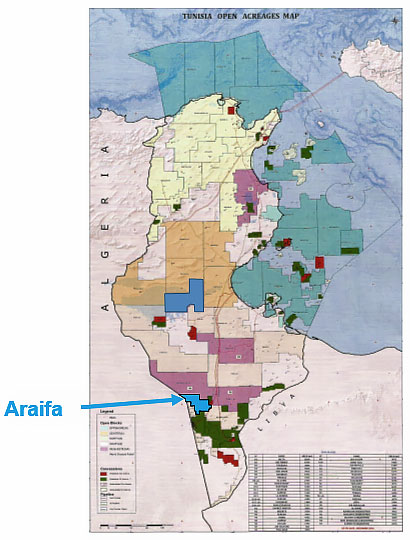 Name
Araifa
Classification
Exploration Permit
Location
Southern Tunisia
Association Contract
Operator  
50%
ETAP          
50%
Surface Area
1012 km²
Effective Date
December 27, 2013

JORT N°103 of December 27, 2013
 
Exploration Permit Initial Period
 (5 years: Dec. 2013 - Dec. 2018)
Exploration Permit 
1st Renewal (3 years)
Exploration Permit 
2nd Renewal (3 years)

Commitment

Geological & 

Geophysical 

studies

Satellite image acquisition and interpretation

Acquisition, processing, and interpretation of 655 km2 of 3D seismic data

2 Exploration wells 

3D seismic acquisition (will be agreed with ETAP)

1 Exploration well 

1 Exploration well (Objective and TD will be agreed with ETAP)

Work performed

G&G studies (2D seismic interpretation, well logs analysis, 2D seismic data analysis)

Satellite image acquisition and interpretation

3D seismic acquisition (655 km2) 

Uphole survey

3D seismic processing (ongoing)