The Nefzaoua Exploration Permit Area is situated in the central part of Tunisia in Kebili province. The Permit is a part of the oil & gas basin of Schott. The Permit's total area is ​​3,032 km² that covers several deposits: El Franig, Sabria, Ghrib, Baguel, El Bibane, Ezzaouia and Robbana. There are oil and gas pipelines within the distance of 15 kilometers of the Permit. Gabes and La Skhira terminals located on the Mediterranean coast are within 60-70 kilometers of the Nefsau Exploration Permit Area.
The Nefzaoua Permit exploration License came into force on December 22, 2017 when it was published in the Official Gazette of the Republic of Tunisia No102.

The Nefzaoua project provides for:
Geological & Geophysical studies;
2D seismic data reprocessing;
Acquisition, processing, and interpretation of 350 km2 of 3D seismic data;
Two (2) exploration wells drilling.
Nefzaoua Permit Overview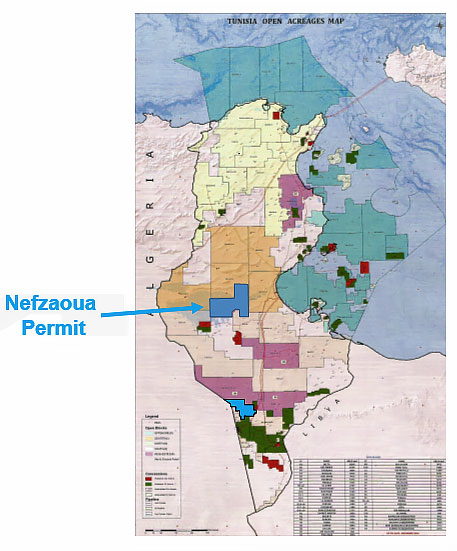 | | |
| --- | --- |
| Name | Nefzaoua |
| Classification | Exploration Permit |
| Location | center Tunisia |
| Association Contract | |
| Operator | 50% |
| ETAP           | 50% |
| Surface Area | 3032 km² |
 
Exploration Permit Initial Period
 (5 years)
Exploration Permit 
1st Renewal (3 years)
Exploration Permit 
2nd Renewal (3 years)

Commitment

G&G

studies
2D seismic data reprocessing
Acquisition, processing, and interpretation of 350 km2 of 3D seismic data

2 Exploration wells