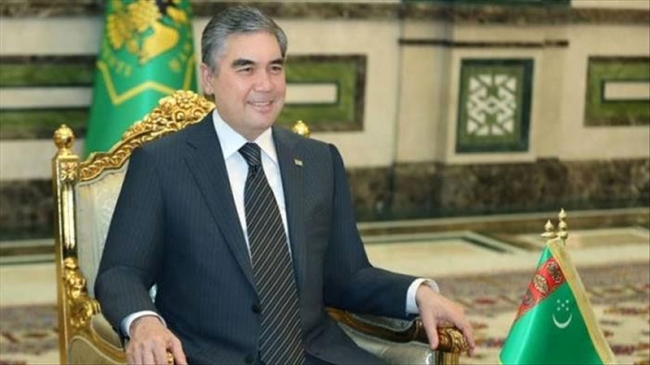 The President of Turkmenistan Gurbanguly BERDIMUHAMEDOW has received the Director of Yug-Neftegaz Private Limited company, Mr. Igor Burkynskyy.
The company's head has acknowledged indebtedness for the opportunity to be received, congratulated Mr. President and the whole Turkmen people on the 30th anniversary of Turkmenistan's independence and wished them good health & successes in honorable activities for the country & its nation.
Igor Burkynskyy has noted that it is a great honor for the company to be involved and to participate in the implementation of large-scale projects and showed his company's interest in further consolidating its position in the rapidly growing Turkmen market that has a favorable business & investment environment.
Expressing gratitude for the cordial congratulations & wishes, Mr. President has stressed that having in stock a vast volume of hydrocarbons, his country is committed to developing co-operation with big foreign companies. One of the key directions here is deemed improvement of the up- & down-stream infrastructure of the fuel & energy industry driven by mainstreaming the innovative technologies, building up export potential of this sphere and geographic growth of energy supplies to the world markets.
During the meaningful dialogue there was an exchange of views regarding the priority areas of bilateral co-operation within the framework of on-going projects & development programs of the oil & gas sector in the territory of Turkmenistan. In this vein, the issues related to the operations of Yug-Neftegaz Private Limited at the Goturdepe oilfield were discussed.
By the decree of the President of Turkmenistan signed this year, Yug-Neftegaz Private Limited and the State Corporation "Turkmengeologiya" have concluded an agreement for conducting exploration 3D surveys in the eastern part of Goturdepe oilfield and 2D surveys - on the "South Burun" area. Mr. I. Burkynskyy has also informed on the works progress, reassuring that the company is making use of all its experience & potential to run these projects.
In conclusion of the appointment, appreciating once again high degree of confidence reposed, the company's head has affirmed that he will accomplish with credit all partner obligations assumed.